You are here:
Home
›
Automation
Automation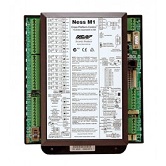 The Kelryan Group are authorised dealers for a range of products security and building automation products for business, commercial, construction & industrial sectors. Our range of products include audio and video intercom systems, security detection and monitoring systems, building automation controllers and traffic lights.
The biggest benefit of such systems is that it saves labour, however it is also used to save energy and materials and to improve quality, accuracy and precision. Integration of security and building automation is now becoming the norm in construction of modern buildings. Security now plays an important role within any buildings security infrastructure and it is import to build it in to any new building design. New advances in modern systems allow the control of air-conditioning, automatic gates, security detection, security access control, security CCTV, lifts and lighting and much more. If you can dream it, then such security and control systems can do it.
Such security and building automation systems offer unequalled value to system integration and end users. Futuristic capabilities using a range of user interfaces including two way voice activation, temperature control of heating and water, security detection and monitoring, lighting control and garden sprinklers and just some more examples of modern system capabilities.
When designing a building or modern home or building it is very important to design and plan for the future. Planning for the future will allow expansion and further integration of other systems and upgrades down the track. It is important to choose a system that can be updated without the need to re-cable. Such systems will allow linking buses to existing modules to reduce installation expansion costs and providing ease of upgrades and integration.
You can benefit from our extensive technical security and building automation knowledge and installation experience. KELRYAN can provide you with total automation solution.