Speed Humps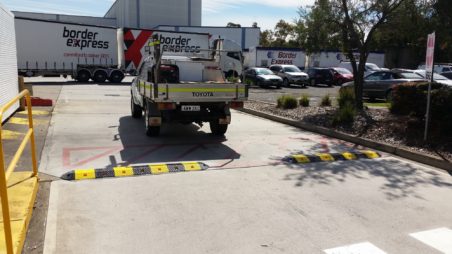 Speed Humps (or speed bumps) are the common name for a family of traffic calming devices that use vertical deflection to slow motor-vehicle traffic in order to improve safety conditions. Variations include speed cushion and rumble strips. For over 10 years KELRYAN have been installing and servicing speed humps in Sydney, Wollongong, Newcastle, Canberra, Sutherland, Campbelltown, Nowra & Ulladulla.
The use of vertical deflection devices is widespread around the world, and they are most commonly found where vehicle speeds are statutorily mandated to be low, usually 40 km/h, or 8 to 16 km/h in car parks.
Although Speed Hump Systems are effective in keeping vehicle speeds down, their use is sometimes controversial—as they can increase engine noise and may damage vehicles if traversed at too great a speed. Poorly designed products that stand too tall or with too-sharp an angle (often found in private car parks) can be overly disruptive for drivers, and may be difficult to navigate for vehicles with low ground clearance, even at very low speeds. Many sports cars have this problem with speed humps. They can also pose serious hazards to motorcyclists and bicyclists if they aren't clearly visible. Although in some cases a small cut across the hump allows those vehicles to traverse without impediment.
KELRYAN supply, install and service speed hump systems. Our comprehensive range of products includes plastic speed humps and rubber speed humps. Historically metal products have been the most popular speed hump to install until recent times. New global technology advances have provided opportunities for new alternative materials to be used in the production of speed humps. Manufactured from environmentally friendly polyethylene (LLDPE)  the Slo-Motion Compliance Speed Hump system is now the benchmark for speed hump products. Its high strength, low noise and anti corrosion characteristics make it a market leader in design and industrial purpose.
Types of Speed Humps.
Polyethylene (LLDPE) – Plastic Type Speed Hump –  AS/NZ 2890.1.2004
Heavy Duty Steel Speed Hump  –  AS/NZ 2890.1.2004
Standard Duty Speed Hump – AS/NZ 2890.1.2004
Economy Rubber Speed Hump – AS/NZ 2890.1.2004
Rumble Strips
Speed Cushions
Traffic Calming Humps
For Sales, installation & service in the following areas including Sydney, Wollongong, Sutherland, Campbelltown, Newcastle, Canberra, Nowra & Ulladulla contact KELRYAN 1300 535792.