Parking Space Barriers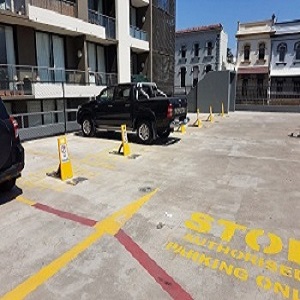 Parking Space Barriers 
Parking Space Barriers or fold down parking barriers are specifically designed to be installed to your car space to stop and eliminate unauthorised parking of vehicles in your parking space. Our parking barriers are available in a number of configurations including automatic, key lockable manual operation, pad lockable manual operation.
The fold down parking barriers are designed to allow even the lowest cars to drive over the top of them, but strong enough to withstand a car park environment. Our range of fold down parking barriers are designed to be used in both commercial and residential parking environments.
All of our fold down parking space barriers are of made from quality heavy duty 4mm plate steel and come in a Hi Vis safety yellow powder coated finish. Some models come with two class 1 reflective bands for night time visibility. KELRYAN provide sales, installation and service to Sydney, Wollongong, Newcastle, Canberra, Sutherland, Campbelltown, Nowra and Ulladulla.