Security Road Blocker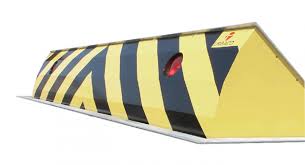 URBACO Security Road Blocker – Anti Terrorism Counter Measure.
URBACO Security Road Blocker complements the URBACO high security solutions range. The URBACO Road Blocker secures access points by covering the entire width of the road way or access point. ASTM2656 M50 – equivalent DOS K12 and Capable of withstanding forces from 10 to 30 tonnes. Rise time: 4-5 seconds; fall time: 2-3 seconds. Optional Emergency Fast Operation (1.5 seconds).